Top Zorbing Locations In The UK
Finding the top zorbing locations in the UK proved to be quite challenging. This is because there are quite a lot of world-class locations that offer various zorbing activities all year round. Although it was invented in New Zealand, zorbing is fast becoming a preferred outdoor activity for many people both young and old, all over the world, including the UK. As you might already know, there are quite a few different types of  Zorbing (also known as orbing or sphering). Nonetheless, all involve a person entering a giant inflatable ball made of plastic and rolling around (either downhill or on water).
There are two ways of doing zorbing. On one hand, harness zorbing is mostly meant for the wet and cold season and consists in harnessing a person inside the giant transparent ball. On the other hand, hydro zorbing is best suited for the warmer seasons such as summer and involves filling the inner sphere of the zorb with a layer of water so that the riders slide around freely, while the ball travels. As they roll downhill, they get the feeling of surfing in water. Most zorbing locations will provide both these types of activities. The following are the top 3 locations that offer zorbing in the UK:




Go Zorbing London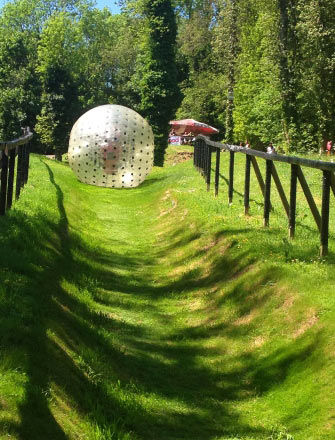 Located 35 minutes from the heart of London within the vicinity of Essex, Sussex and Kent, London's Zorbing Park is regarded as one of the best zorbing locations in the UK. It takes you approximately 10 minutes to reach from the 6th junction at the M25 if driving, or 10 minutes when walking from Whyteleafe South train station.
The site is situated on the top point of Salmons Lane where you enjoy a picturesque and panoramic view of central London. Looking around, you can see the shaded picnic beaches, the rustic woodland, the low-lying ranges and the expansive slopes. You have the option of choosing the harnessed zorbs (3.6 -meter pod), hydro-zorbs (containing 60 liters of water), the custom-built balls or the newly invented "PITCH BLACK hydro zorbing" balls.
The spheres can accommodate a maximum of 2 persons weighing not more than 200 kilograms. The minimum age for the rides is 7 years old and the riders should be between 4.5 and 6.5 feet tall. The site is open from Saturday to Sunday from 9.00 am – 17.00pm and at times midweek from March to October.




Spheremania Nottingham
Spheremania Nottingham provides zorbing for one, two and three persons and is located along the Nottingham NG16 5HU main road, United Kingdom, just 30 minutes north of the city.
Rolling downhill while inside the giant inflatable transparent balls will have you clocking speeds of up to 30 mph and gives you the adrenaline rush of a lifetime, as well as the ultimate experience. They pride themselves on having UK's longest zorbing run (300 meters).
You can choose Harness Sphering which is said to be the most challenging and can accommodate two participants harnessed at opposite ends. In the hot season, you can go Aqua zorbing, where you and your friend enter a sphere filled with up to 50 liters of water.
Also provided are Eclipse Sphering and Midlands Bubble Football (or Zorb Football). The minimum age for Harness Sphering is 12 years and the maximum is 60, while 7 years is the minimum for Aqua Zorbing and maximum is 65 years. The cost ranges from £40 to £65 and the experience lasts from 15 seconds up to a minute.




Manchester South Sphereing
Manchester South Sphering takes place at the Mad-Renaline Activity Centre, which is located at Rushton Spencer, Heaton SK11, United Kingdom. The location, which lies in close proximity to Liverpool, Stockport, Staffordshire and Cheshire, offers the normal harness zorbing, body zorbing and Aqua zorbing.
Harness zorbing takes you down the slopes while rolling in a large inflatable sphere. Aqua sphering implies using a water-filled sphere while Body Zorb Football consists in playing football/soccer while dressed in a sphere that covers your body from the waist upwards. Football has never been funnier, as you bump and roll on the ground chasing the ball. Other activities you can do at the site include Segway Safaris, Sky Bow Archery, Laser Clay Pigeon Shooting, Stags & Hens event, and corporate events. The price for zorbing for one person is around £30.00, £49 for two and £59 for three participants.




The above are just but a few of the many zorbing locations in the United Kingdom. They feature among the best because of their high quality zorbing experience, expansive terrains, great consumer reviews and also offering other outdoor activities. Zorbing is a great way to have a new experience, enjoy the outdoors and get a real adrenaline rush, in a safe environment. It's also a fun way to enjoy some time out with your family, friends, coworkers or boost team building. Have you ever taken part in zorbing or visited any of the zorbing locations in the United Kingdom? We believe you should!
If you are an outdoor sports enthusiast you might also enjoy browsing the other related Zorbing activities. In addition, you can check out our most popular zorbing topics. And if you are interested in finding out zorb ball prices and how to get yourself one, you could visit our Buying a zorb ball section.