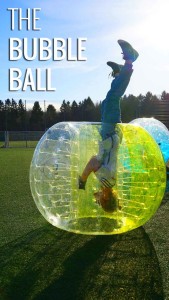 The human bubble ball or simply the bubble ball is yet another distant relative of the all mighty zorb ball. Don't let the smaller size fool you, the bubble ball is as fun as the zorb, or maybe even more so (check video below). It's basically your own inflatable portable human hamster ball. You slide your upper body inside and strap on, while your legs are free to move you around. Go on and bounce, bump, jump, roll around, run. You can play Bubble Football (Soccer), go Body Zorbing with your friends, or just free run like a nut. Do whatever your creativity tells you to. Let your body be free and have no worry! You are safe inside your own protective inflatable bubble ball!
What is the Human Bubble Ball?
Simply put it is a mini zorb inflatable ball. It has straps built in so that your body is well secured and safe inside the capsule. The capsule goes over your head so that you're fully protected. Your legs are free to do whatever they want. You will be completely in control. Or will you?




What Is It Used For?
Once you get inside your protective colorless bubble, the sky is the limit. Geared like this you turn into a genuine Zorbinaut! You are now ready to experience Body Zorbing at the fullest. You can be rolled on the ground and used as a bowling ball, engage in hamster ball sumo with your friends, or simply play Bubble ball Soccer with your mates. I say simply, but it's not quite so simple, as you will see for yourself. Keeping your balance while inside the ball, bumping into your friends and chasing the soccer ball at the same time will prove quite a feat. It will all turn into a super funny fiasco, and an experience you will never forget. There will be tumbles, bumps and bounces in all manner of positions. But don't worry, you will be perfectly safe inside your human bubble ball!
A Day Inside A Bubble
Check out what you can do once you strap yourself in one of these:
Buy A Bubble Ball
If you want to try it for yourself , you can always get yours on the Amazon, for around $160 each. But don't forget to get yourself an electrical pump, or there will be a lot of heavy duty pumping, if you go manual!
Fun In A Bubble Ball
There are a lot of different activities that you can do inside your own inflatable ball. Strap in tight and let your imagination run wild. You can take part in special races together with your friends. There are specially build inflatable tracks that make the race super hilarious, as everyone taking part will be tumbling and falling around like helpless little babies. Try to outrun your competition while keeping balance. Bumping into one another is not only permitted, but encouraged in order to secure your win. It will be super fun. There is also bubble bowling where one guy tries to take down all the others by bumping into them at full speed, and the list goes on. So don't miss out on testing it out for yourself. Head on to a zorb park and try it out! Or you can even buy your own and let the good times "roll".




So don't be left behind playing ordinary games. Go on and try out body zorbing or bubble football or simply do whatever you feel like inside the inflatable bubble suit. Don't hold back when it comes to this high energy and fun sport. "Roll" whichever way you want. You are a true Zorbinaut and you are perfectly fine inside your personal human bubble ball!
For more fun check out the other iflatable balls! And definitely read up on the cool sports you can try out!