Zorbing Locations In The USA
Do you know the top zorbing locations in the USA? Zorbing, also known as orbing, sphering and globe-riding, is one of the coolest outdoor sports. Invented in New Zealand, the activity has spread to many other regions, with the US being among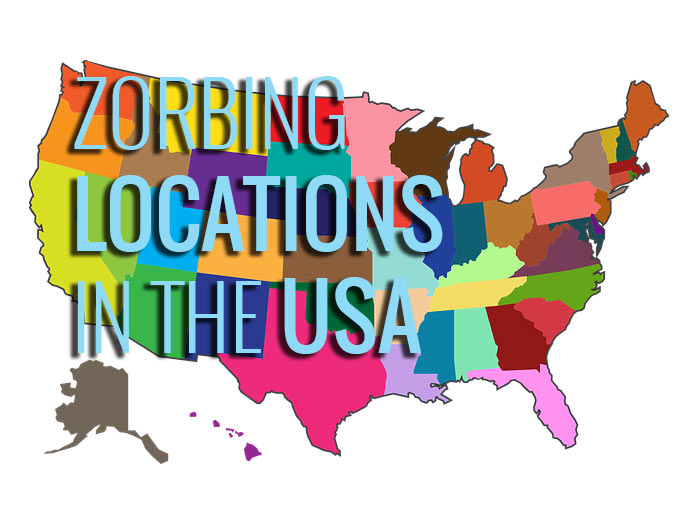 the top destinations. As you might already know, the sport is all about going inside a large transparent plastic orb/ball and rolling on a hill or travelling on the surface of a lake/pool inside one. You may choose to go for a solo ride, or together with your friends. There is also
another form of zorbing that is done by filling the ball with a layer of water so that once you get in and slide around in it, you get the feeling of riding inside a "washing machine". Moreover, another activity branched from zorbing, which is body-zorbing. The body zorbing balls are significantly smaller than the giant zorbs, but, where they lack in size, they more than compensate in fun. You can check them out here.
Over the course of time, different locations in the East, West as well as Central USA have popped up and provide zorbing related sports as well as other similar outdoor activities. However, the following are currently the top locations for zorbing in the US, so if you feel like going for a ride, you should definitely look them up.




Roundtop Mountain Resort
Roundtop Mountain Resort is among the most-visited places for zorbing in the US. It is situated on 925 Roundtop Road, Lewisberry, Pennsylvania 17339. The location prides itself on being a provider of entertainment in their own special OGO balls. They claim that these are quite different from the usual giant inflatable spheres found elsewhere. The balls consist of a smaller ball measuring 6feet in diameter that is suspended inside a larger 11 feet ball. Pouring around 5 gallons of water inside the inner ball brings out a water surfing experience (this is called aquazorbing). The activity is part of the Adventure Package and it is targeted for people aged 6 years and above. The weight of the rider is capped at 275 pounds. The balls can also hold up to 3 riders whose combined weight shouldn't exceed 550 pounds. However, riders aged between 6 and 7 years need to be accompanied by a person who is at least 14 years.
In addition to zorbing, Roundtop also offers other outdoor-adventure sports. These include, The Woods, Scenic Chairlift Ride,  Zorb Ball Experience, Canopy Crawl, Cedar Maze, Tree House Zips, Bumper Boats, Alpine Traverse, and Crow's Nest. There is also the air-conditioned Mountain View Lodge that houses a food court, rest rooms, retail shops and changing rooms. The full package gives you the panoramic view of the zorbing lanes and the scenic mountain.




Richardson Farm
The Richardson Farm is considered the top location to deliver ramp zorbing and is definitely in the top 5 locations that offer zorbing activities in the USA. It's also famed for being adjacent to the largest corn maze in the world. It's located on 909 English Prairie Rd Spring Grove, Illinois 60081, North West of Chicago in McHenry County in USA. Ramp zorbing consists of you entering a large zorb that measures 11 feet in diameter and then rolling on a specially constructed ramp.
Aqua zorbing is another activity provided by the park. The zorb ball is filled with around 10 gallons of water and you slide right in for the fun. This is very popular during the hot summer days. Dry zorbing uses orbs that have no water inside. Instead, these usually employ straps and harnesses to keep the rider "stuck" to the inner sphere, and is common during early spring, fall and winter.
The site has 3 courses, all carried out on the 1000 foot hill: Zipper, Zig-ZAg and Straight Away. You may choose to go for a solo ride or join a group of not more than 3 individuals. Other than zorbing, Richardson Farm also has a shaded picnic area, pedal trikes, pumpkin picking, slides, goat walks, and corn bin cabin and opens from Friday to Sunday. For more information you may visit their site.




Amesbury Sports Park (New England)
Amesbury Sports Park (aka New England Sports Park) is also a popular zorbing site in the US. It's situated on 12 South Hunt Road, Amesbury, and New England, MA 01913.
The park boasts having the steepest hills for zorbing and 12 very fast snow tubing lanes. They provide zorb rides inside their giant inflatable balls measuring 11 feet in diameter. Like the other locations, here too you can go for the aqua zorbing or harnessed zorbing. The aqua zorb activity is available during summer. As usual there is water poured inside the inner sphere and up to 3 individuals at a time can ride. The participants are sloshed inside the water-filled sphere as they roll downhill. The harness ball is used in the cold weather and has no water inside it. Instead, the guests are secured by a 7-point harness inside the sphere as it tumbles down the slopes.
When not zorbing, during the cold months, you may snow tube, skim on the frozen pond, or enjoy a hot chocolate. Other activities include field hockey, soccer, lacrosse, rugby, football, and cricket. The New England Sports Park also has extreme obstacle races in the warm season such as Spartan Race, Warrior Dash, and 'Run for Your Lives'. There is also the Annual Brew Fest that showcases more than 100 brands of beers, barbecue and live bands. For more information about their schedule, consult their site.




Summing up
Listed above are three of the top locations where you can go zorbing in the USA. You may go for solo runs or join up your friends. Or maybe you prefer feeling like surfing when you ride inside the water-filled giant hamster ball? It is all up to you. But remember, zorbing is not only about rolling on hills in giant spheres. It's about having fun and doing something unique and exhilarating. There are also many more zorbing-related outdoor sports that you can do (check them out here). If you are an outdoor enthusiast and love outdoor sports and activities, you should definitely give them a try. And don't forget that if you can afford it, you can also go zorbing by yourself. All you need is a hill, or a pool and your own own giant inflatable hamster ball. Then you can go zorbing just with your family. Check out the section about buying a zorb ball for that. But overall, no matter where and how you chose to do it, zorbing will always be a super fun outdoor activity that you shouldn't miss out on.