Top Zorbing Destinations In Europe
Have you ever wondered what the top zorbing locations in Europe are? Although it all started in New Zealand, zorbing (also known as sphering) is gaining popularity all over the world. And so, there are a high number of locations where someone can go zorbing. People looking for unique experience of seeking adrenaline enjoy this extreme sport because rolling downhill in giant inflatable balls at high speeds is a real rush. The way it works is that a person can be secured inside the sphere by harnesses, or the sphere may contain water and the rider floats around freely inside, thus avoiding injuries during the roll. You can choose to go for it alone, or join another rider inside the ball. There are many zorbing locations in Europe that provide this activity. However, the following seem to be the most popular: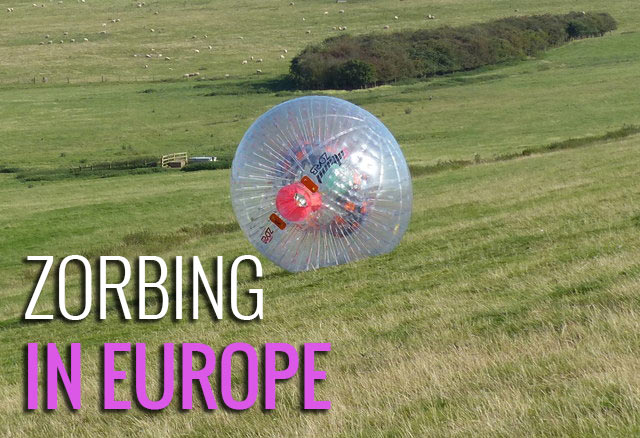 Zorbinganlange, Germany
Zorbinganlange in Germany is one of the top zorbing locations in Europe. It is situated on Schützenstraße 100, 79822 Titisee-Neustadt at the base of Hochfirstschanze near the World Cup ski jump valley on the B31 in Neustadt district. You can reach the location via car using the B31 and exiting at Neustadt-Mitte then following the direction markers to the zorbing site. It's also reachable by train from Donaueschingen or Freiburg and it will take you approximately 10 minutes to arrive at am Bahnhof Neustadt (Black Forest).
Zorbinganlange offers harness and aquazorbing, both of which take place in giant inflatable double-walled plastic balls that can accommodate one or two people. Although the prices are the same, it's more fun when riding with your partner or friend. The preparation for the zorb ride takes approximately 10 minutes, while the ride itself lasts almost one minute (60 seconds). The minimum age for riding the zorb balls is 14 years old, while the maximum weight is 120 kilograms. The consent of the child's caretaker is needed for participants aged from 14 to 18 years old. The Zorbing Station opens from 10am to 4pm every Saturday, Sunday and on public holidays from May to October. Other activities offered at the site include swimming, water sports, and skiing. More details about zorbing and the locations is available on their site.




Samsoe Downhill, Denmark
Samsoe Downhill is the most famous zorbing location in Denmark and is located at Herring Balle 3, 8305 Samso (Samsoe). The location is found on the beautiful island that lies between Sjællandand Jutland along the Kattegat Sea. Situated on a large farm in "Vorbjerggård" the zorb site boasts a ramp measuring 140 meters long which is used for both harnessed zorbing (suspended inside the giant plastic ball via harnesses) and hydro-zorbing in the hot seasons (where you roll inside a water-filled sphere, without being strapped on). It is open to children, teens, youth as well as adults starting from the month of May all the way to September. You can go for solo rides or join a friend and roll down the hill together. In addition to zorbing, Samsoe Downhill also provides horse drawn carriage, hosts bachelor parties, and corporate events.




Golf Sant Antoni Mas, Spain
In Spain, zorbing is becoming quite a popular outdoor activity for those looking for extreme experiences and adrenaline rushes. One of the many locations that provide zorbing in Spain is Golf Sant Antoni Mas in Tarragona. This is undoubtedly one of the top destinations for the sport. It is located on Sierra Way 43470 in La Selva Del Camp near the panoramic Prades Mountains, Reus Airport (15 minute drive), the historic Tarragona City (25 minutes away) and Costa Daurada beach (25 minute drive). The hotel offers all the various forms of zorbing (harness and aqua/water) which take place on the expansive landscape at the hotel.
The zorbing site provides large transparent plastic balls that can hold one or two persons for the ride.  The minimum age is 14 years old. To take the thrill a notch higher, soccer / football zorbing is also provided. This involves the participants wearing transparent spheres that cover their body from the waist upwards and playing football. Because you are unable to use your hands for control, many end up falling, rolling and tumbling around in a hilarious manner. Getting up is usually a challenge and the whole fiasco is super fun. Bubble sumo is also offered where participants dressed in the inflatable transparent zorbs bump and bounce off each other. The goal is to wrestle your opponent down without using your hands. Other activities offered by the location include bachelor parties, birthdays, golf, team building, biking, hiking, horse riding, swimming and much more.




This was our review of the top zorbing destinations in Europe. Have you ever had the opportunity to zorb, and what was it like? Which part in Europe did you carry out the activity and did you do a solo run or together with someone else? No matter what location you chose to go to, zorbing is always going to be a unique and fun experience that you won't ever forget.