Zorbs – Extreme Way to Cross the Sea
What can be more exciting than Zorbs and taking a trip in one on the surface of a pool? Taking a trip in a one to cross a frikkin sea!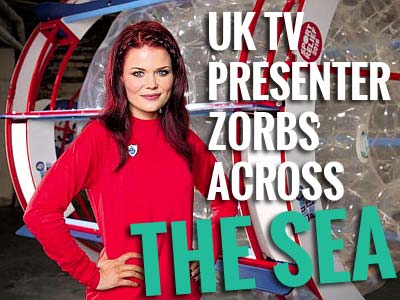 That is exactly what UK Television host Lindsey Russell attempted to do. Early 2016 Lindsey decided that Zorbs can be a good way to raise money for a noble cause (fundraising for charity Sports Relief).  Her idea was to cross the Irish Sea in an inflatable ball. Like a hamster in a wheel, she would roll the giant inflatable ball on the surface of the water by running inside it. She would have to cover 24 miles
(38 km) on the sea in an effort that would last 14 hours.
In order to do this, she trained for months. As she puts it, crossing the sea in a Zorb, is the greatest challenge of her life. Lindsey had already taken part in long distance running events. She had already completed the Swiss Army Mountain Marathon and the London Marathon. She was ready.
Zorbs – A Daring Way to Cross the Sea
And so, early morning 25th of February 2016 she set of on her great sea voyage . The sun was not even up when she laid her inflatable sphere on the water. One must note that not all Zorbs are like hers. This one had modified paddles to help her advance the long distance. Other Zorbs are designed just for fun and entertainment. But this one was fortified to endure. And so, she went to sea in Donaghadee harbor on the coast of Ireland. Ahead of her, a 14 hour trip. She was ready to do everything humanly possible to cross the sea. However she was not ready for what the untamed sea had in store for her.




And so, unfortunately, after zorbing for a whole 20 miles (31 km), hazardous waves started to rise. The weather went extreme and she was facing a full blown sea storm. The waves were roaring around and the danger was real. She was forced to abandon her incredible feat, just one fifth of the distance away from succeeding.
A colleague of hers noted later on, that whilst the attempt to complete the sea crossing was ruined by the weather, Lindsey had given her all to conquer the vast waters in her floating hamster ball. The fundraiser was a success, although the trial had failed. Lindsey's effort inspired many people and I tip my hat in respect! She attempted what no one else did before, and that takes a lot of strength and determination! Great job, Lindsey!
You can see footage from her daring sea voyage below.
Additionally you can read more about Zorbs and related sports and activities here.