Zorbing In Australia On The Gold Coast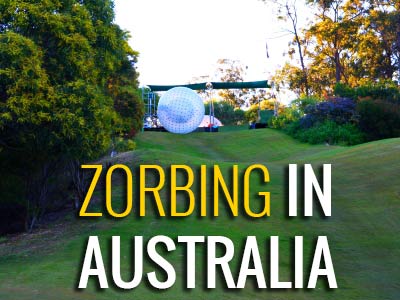 Ever wondered what it's like for a hamster inside a hamster ball? Well, now you can try it yourself by going zorbing in Australia. Human hamster balls were invented back in the 70s and were made popular a few years later in the 90s in New Zeeland. Ever since then, the activity was named an extreme sport and gained more and more popularity. These days there are a handful zorbing adventure parks worldwide, and one of the nicest destinations for zorbing is definitely the Gold Coast. (EDIT: the zorbing park on the Gold Coast closed in 2013, so we are hereby presenting the best alternatives in Australia). Here are a few of the best places to go zorbing in Australia:




Wet'n'Wild Adventure Park
A great destination for outdoor lovers, The Wet'N'Wild Adventure Park in Vanatu, Australia offers a large array of dynamic activities that anyone can go for. They have slippery water slides, human slingshots, cable gliding, segways, go carts, and last but not least, zorb soccer and zorbing.
When it comes to zorbing, they boast having one of the longest and most fun rides worldwide. Checking up on their TripAdvisor stats, we discovered that the experience they provide is indeed top of the line in terms of outdoor fun. They have excellent reviews, and they are praised for the friendly and helpful staff, great responsive team, fun rides, cool and up to date equipment, and for the unique zorbing experience the park supplies.
The type of zorbing that they offer is mainly wet zorbing (or hydro zorbing). This implies pouring around 10 liters of water inside the giant 3 meter inflatable zorb. Once inside, the passenger gets to slide around while the ball travels down the hill (feels a bit like being inside a washing machine). It is a very fun experience, and most people visiting the park say the main attraction is the zorbing experience.
Besides that, you can also play zorb football (soccer). This means you get to wear a mini-zorb over your torso, turning you into an inflatable ball running on human legs. Your upper body gets strapped inside the ball with harnesses, while your legs carry you around. Now, you get together two teams of players dressed like this and the good times start "rolling". Literally. As you chase the football around the field trying to score in the opponent's goal, you will crash into the others and bumb, tumble and roll around in the most hilarious ways.
Overall, if you ever find yourself on a trip in Australia and want to have a guaranteed good time, you should surely check out the Wet'n'Wild Adventure Park in Vanatu.




Planet Mud Outdoor Adventure
Planet Mud Outdoor Adventure is located in the southeastern part of Australia, 15 minutes away from Colac and a 90 minute drive from Melbourne. The park is the first adventure center in Victoria that offers Paintball, Zorbing and Segway.
Set in 52 acres of beautiful nature landscape, they provide a variety of paintball scenarios, a beautiful scenery to traverse via Segway, and a unique custom build ramp for zorbing. They mainly use harnessed zorbing, in which the zorb rider is strapped inside their giant 3m inflatable ball by using harnesses. The sensation of rolling downhill in such a ball is exhilarating and unique. Just remember to eat lightly the day you try it out. Not kidding.
The ride is operated by experienced and qualified staff, who will make sure you will get the most awesome and safe experience. So if you ever find yourself wanting to try out something new and fun in Victoria, look the Planet Mud Outdoor Adventure.




Zorbing On The Gold Coast, Queensland
There are a lot of reviews online about Oz Ball, a zorbing park situated in Queensland. The park used to be included in our review of the top zorbing locations in Australia. Unfortunately, we had to update this article since the park has been closed (2013). We are still mentioning it to inform people still searching for it that it has been closed.
Summing Up
Zorbing is one exciting and fun outdoor activity that anyone can and should try. So if you ever visit Australia, and you have the chance to do it, go and visit one of the cool zorbing parks they have.
If you want to check out other awesome zorbing-related activities check this section out. A lot more cool zorbing stories can be found in our popular section. And last but not least, if you think you want to purchase a zorb ball or a bubble-soccer ball, check out the buy a zorb section for details.