Ever since its creation back in the 1970s, zorbing has slowly grown in popularity all over the world. Nowadays thousands of people of all ages enjoy various forms of zorbing, either in special theme parks or by themselves in random outdoor locations. It all began as a recreation, but ended up receiving the designation "extreme sport". And naturally, as time progressed some daring folk even managed to set some pretty amazing world records. This article covers the top zorbing related records in the world, from people going really fast in zorb balls, all the way to pushing a car over the hill, inside a giant inflatable ball.




Fastest Speed Zorbing
On 7 November 2006, the Guinness World Records Day started off in the characteristically unusual manner, when, in New Zeeland, in the city of Rotorua, Keith Kolver became the fastest "human hamster", when he rolled down the grassy hillside in a huge inflatable zorb.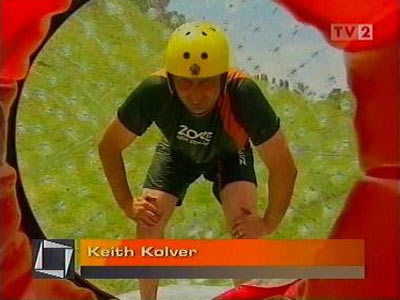 As his water-filled zorb rolled down the hill, a policeman from the local precinct tracked the speed on his police radar. Keith managed to reach an unbelievable 32 miles per hour (the equivalent of 52 kilometers per hour). When leaving the giant hamster ball, Kolver was super excited by the ride. He noted that there was water splashing all over the place, and that the sensation of speed he had was awesome and unique.
Longest Distance Zorbing
The same day as Keith's fastest land zorbing record, another world record was broken by Steve Camp (from South Africa). The feat was recorded in another city of New Zeeland, Paengaroa. It is there, that Steve managed to double the existing world record and travel a total distance of more than half a kilometer.  His zorb ball rolled for a total of 570m (1870ft) in one single roll.  Both zorbing records were part of a worldwide Guiness World Records Day that was taking place for the second time all over the globe.




Fastest 100m Zorbing
In March 2012, in a noble attempt to raise money for the Sports Relief charity, British cricket star Freddie Flintoff attempted an awesome "most records broken in one day" challenge. Although he didn't succeed in breaking all the records he tried, he did manage to set 14 new world records. These included feats such as:  most kisses given in 30 seconds – 40 (on the TV Show Loose Women), fastest time to high-five 20 people blind folded – 6.53 seconds, using a cocktail stick to eat most peas in 38 seconds – 38, fastest time to drink a hot chocolate – 5.45 seconds, and also the fastest 100m zorbing run speed, where he managed to set a 26.59 seconds world record. This looked a lot like Jimmy Fallon racing inside a zorb ball on the Tonight Show, only a lot more serious and sporty-like.
The Most Participants In A Zorbing Event
This record was set in China in April 2015, in Hong Kong. The relay was organized by GPP22, and managed to gather a number of 237 participants. Each of the participants had to get inside a zorb ball and to run a 50 meter straight distance on a specially designed zorb-racing track. The event came to an end when one of the participants failed to finish the race, but it was still good enough to set a world record.
Honorable Mentions: Zorbing Across A Whole Sea
In a different charitable event for Sports Relief, the cute UK TV Presenter Lindsey Russell attempted to cross the whole Irish Sea in her specially redesigned Zorb Ball. You can read about her exploits and see a video about her daring journey here.




One Ton Car Inside Zorb Ball Rolling Downhill
Even though this has not been registered as an official World Record, we felt the need to mention it here, because it was simply awesome. In a cool publicity stunt in 2014, Nissan build the world's biggest inflatable zorb, complete with a Nissan Note Car inside. The car weighed around 2400 pounds (1.09 tons) and was 163 inches long (4.14 meters). Once the car was safely snugged inside the giant ball, they pushed it down a hill in an undisclosed location in a UK military facility; because I believe a 1 ton car in a giant ball rolling freely on a slope is not something one could do any place they fancy.

The whole stunt was meant to advertise Nissan's new safety technology package called the "safety shield" and the giant plastic ball around the car promoted the idea perfectly. So although this was not an official record, we definitely think it deserves its place right here among other official zorbing feats.
If you would like to find out more about zorbing and cool sports related, check out the sports section. Be sure to take a peek at other topics that might interest you, here.