We've been playing football since kindergarten because it was always fun. But add to that Bubble Ball costumes, and Zorb Football becomes absurdly hilarious. This article talks about what Zorb Football is, a brief history, and reveals why it is super hilarious.




Zorb Football is also known as Bubble Football, Bubble Soccer or simply Bubbleball. It is a type of leisure activity that derived from the original Zorbing. Differently, though, this sport involves playing football while being "dressed" in a variation of the hamster ball for humans. Your legs are free to run, but your upper body part and your head are practically covered by the inflated ball. The sport can be played indoors in a sport hall, or outside on natural or artificial grass.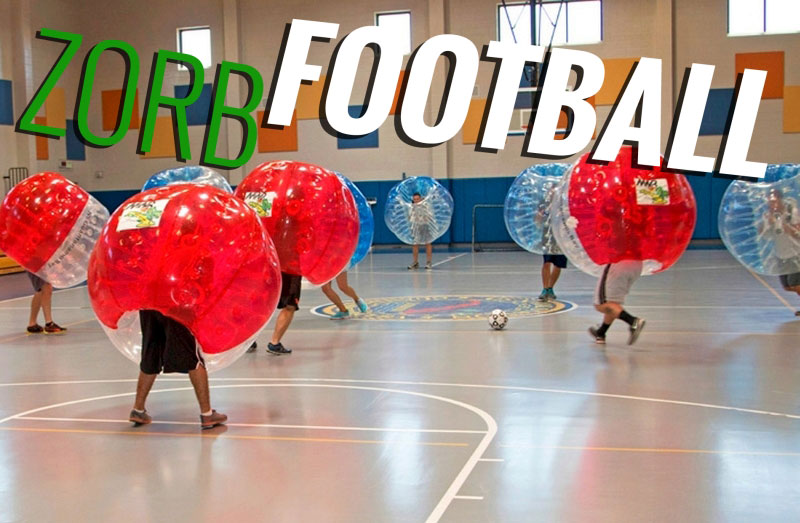 Anyone over the age of 10 can play this sport. Mostly, this is an activity best suited for a friends' get-together, for birthdays, team-buildings, bachelor parties and such. There are many ways to play the game. But the main idea is that one doesn't need extraordinary football skills to play.




In order to take the ball from the opponent, players just usually collide into one another, resulting in some pretty hilarious bounces. That is why this is more of a recreational activity than a real sport. It is just a lot of fun.
Why is Zorb Football super hilarious, you ask. As they say, an image is worth a thousand words. So the best thing to do is to see for yourslef (I know it's filmed with a Potato, but this was way too funny to pass):
As you could see, many times on the football field the game turns in a 1v1 sumo – type challenge just for the laughs and giggles. Other times the participants engage in bowling where all the participants gather on one side while a single individual stands on the other. It is then up to him to run at the group and try to knock down as many of them as he can.
For a full collection of sports, besides human hamster ball football, go on and check the other Zorb activities.




Another scenario is playing Bulldog. That is when one person stays in the middle of the field while others try to run from one side to the other. The guy in the middle is supposed to knock whomever he can down and prevent them from crossing the field. The guy who got knocked down joins the Bulldog pack in the middle of the field. The game is won by whomever survives last without being knocked downs by the Bulldog pack.
Buying A Football Zorb
If you think that zorb football is fun, and you want in,  then there are two choices. Firstly, you can look up a location near you that provides this, or secondly, you can get your own football zorbs and play in your own back yard with your family and friends, provided you have the cash for it. Those inflatable costumes can be pretty pricy to some, but depending on who is selling them, you can get a discount for buying them in bulk. You can even buy them in two different colors so you can set-up teams. There are quite a few providers that are selling good quality football-zorbs on the Amazon, so the best thing to do is check out the price, availablility and bulk discounts below:
Zorb Football Popularity
The creators of Zorb football are Henrick Elvestad and Johan Golden from Norway. The first appearance of the sport was on their TV show called Golden Goal in 2006. In the beginning, the game grew slowly in popularity and was actually met with skepticism by investors in the UK. Most of them said that this had no future.  Nonetheless even if the start was slow, nowadays Zorb Football is played nationwide. By 2014 the game had spread to the US where the sport has seen great success. It has even aired on live television when Jimmy Fallon, Collin Farell and Chris Prat played Bubble Ball Football on the Tonight Show.
Eventually Bubble Football has made its way as far as New Zeeland where people call it Zoccer.
Other related fun activities / extreme sports are water walking and human hamster ball rolling.