The zorbing craze started way back with the birth of the first plastic human hamster balls back in the 70s and 80s. It caught on strong in the year 2004 when the Zorb was re-branded and commercially produced in New Zealand. It is there, that the first zorbing parks were ever created. Ever since then, the sport gained fame and also branched into other activities as-well. A notable branching of zorbing is body zorbing. The balls used in body-zorbing are significantly smaller than their giant zorb-ball sisters, but, where they lack in size, they more than compensate in fun. You can check them out here.
Zorbing is nowadays available at quite a few locations all over the world. In Canada there are a few places one can go zorbing, but most of these locations usually offer a wide array of outdoor activities, and are not necessarily dedicated to zorbing exclusively. Some of these places are providing zorbing at the present time, but the best approach is to call and inquire beforehand if they still offer the activity. Here is our list of some of the best zorbing locations in Canada.




Canada Olympic Park, Calgary
Previously known as Pasakapoo Ski Hill, the park is nowadays run by WinSport Canada, which is the Calgary olympic association. The site is used both for training high level athletes but also for recreational purposes and is open to the general public. During winter the park provides activities such as luge, ski jumping, and bobsleigh alongside all sorts of skiing related sports.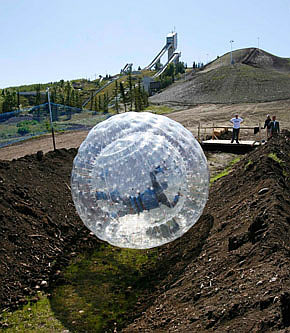 In summer the venue is used for a number of summer festivals, a wide variety of outdoor sports (mountain biking, trekking etc.), and for zorbing. They have a zorbing track with man-made dirt mounds that prevent the ball from going off course. The full length is about 600 feet. The ride lasts around 30 seconds and although that might not sound like a lot, once you are strapped inside the giant hamster ball, time moves way slower. The sensation of disorientation and weightlessness as the ball rolls downhill is thrilling and unique.
You will not find hydro zorbing here (where the ball gets half filled with water so that you float and slide around freely while inside). Instead you can only find the dry zorbing version where two people get strapped inside the ball with special harnesses. They called their ride Z-tripping. And you can do this in weekends between 10am and 5pm. Group bookings of 10 people or more are encouraged since prices will be lower per person. Prices vary between $33 (single individual ride) and $25 depending on group size factor. You should check out Winsport Canada official site and inquire availability before organizing a trip there.




Bubble Madness
Bubble Madness is a franchise with sites all over Canada that provide Zorbing Football and many types of Body Zorbing, in more than 8 cities. They offer zorbing activities in Toronto, Quebec, Montreal, Ottawa, Saguenay, Sherbrooke, Cote Nord etc. If you decide to try them out there are more than 7 games that you can play inside while strapped inside the bubble balls.
There is King Of The Ring, where each man stands alone and only one winner will remain inside the ring. Spartacus, where two teams collide and everyone whose bubble touches the ground is eliminated. General Tao, where the two teams must each protect their general from falling down.  Figthing Roosters, where two teams are facing 1v1 battles randomly assigned by a referee. There is also Bubble Wars, where one person is set inside a big zorb ball, while the two teams struggle to push the zorb into the enemy's ground. And last but not least, we have Bubble Football and Bubble Hockey which means playing these sports while dressed in the bubble balls.

All these activities are insanely fun, and if you want to give them a try, then Bubble Madness will deliver an unforgettable and super fun experience. Since they have so many locations all over Canada, the best thing is to head up to their site and check out their contacts.




Hamster Fun, Mississagua (close to Toronto)
Founded with the purpose of providing outdoor activities and play, while promoting an active and thus healthy lifestyle, Hamster Fun offers a lot of exciting and fun activities all related to zorbing. They have  zorb ball activities for all sorts of events, parties, and team buildings. Unfortunately, they do not have a personal dedicated zorbing facility, but they do operate in various places such as local parks and other outdoor locations. They are, however, focused on providing mainly group activities for birthday parties, corporate events and family reunions, so you should contact them before hand and make inquiries. If you want to go zorbing near Toronto, you should definitely check them out.
To Conclude
Zorbing is a super fun outdoor activity that no one should miss on. If you want to go zorbing in Canada, there are quite a few places available that cover a lot of cool related activities. You should give them a go.
If you want to find out more about zorbing, you could check out the zorb sports section. There is a lot more cool stuff to find out in the popular section. And last but not least, if you want to buy your own inflatable bubble, see the buy a zorb ball article.